5 things you have to know before traveling to Playa del Carmen
Hot List
Our Top Experiences and Tours in Mexico:
If youʻre booking your trip to Mexico last minute, we have you covered. Below are some of the top tours and experiences!

Playa del Carmen has a simple and magical aura that draws millions of visitors from near and far each year. However, it has grown significantly and is now one of Mexico's fastest-growing cities. As a result, we provide you with information that you need to know before traveling there, including questions and concerns that arise when one plans to visit an unfamiliar location.

Where is Playa Del Carmen?

It has been called "The Heart of the Riviera Maya" due to its location in the heart of this world-renowned coastline. On Highway 307, Playa del Carmen is about 40 minutes south of Cancun International Airport. It is located in Quintana Roo, one of the three states that compose the Yucatan Peninsula in southern Mexico. This laid-back coastal village is located on the beautiful Caribbean Sea.

Tip: save your tourist visa together with your passport, since you will need it when you leave the country. If it is lost for any reason, you will be required to pay about USD 50 at the Immigration office for a new replacement.

Local currency

The Mexican peso is the official currency in Mexico, however, the US dollar is accepted at supermarkets and retail stores, self-service centers, restaurants, gas stations, and so on. Many homes for rent and sale are also advertised in USD.

There are several exchange houses conveniently placed across the city where you may exchange your money. These firms also deal in USD, CAD, and Euros. It is recommended to only use ATMs situated in the city's main banks and to avoid using ATMs placed outside banks and even within hotels since they are considered to be unsafe. It is also feasible to convert money at the reception desks of most hotels; however, keep in mind that they must provide a reduced conversion rate.

Know Playa del Carmen

The center is made up of a succession of one-way avenues numbered 5 by 5 beginning with the first, fifth, tenth, and so on. These boulevards go parallel to the sea or north to south. The majority of streets are likewise one-way, numbered two at a time, and run east to west.

5th Avenue or La Quinta, Benito Juárez, Calle 12, Constituyentes, CTM, and Highway 307 are the most famous streets or avenues.

Transport in Playa del Carmen

Riding a bike around town is a quick and efficient mode of transportation. Bike lanes have been constructed on Avenida 10, making bicycle use extremely safe. Even so, you should be extra cautious because driving instruction in this area isn't the finest. Please keep in mind that bikes and pedestrians do not have the right of way in this area.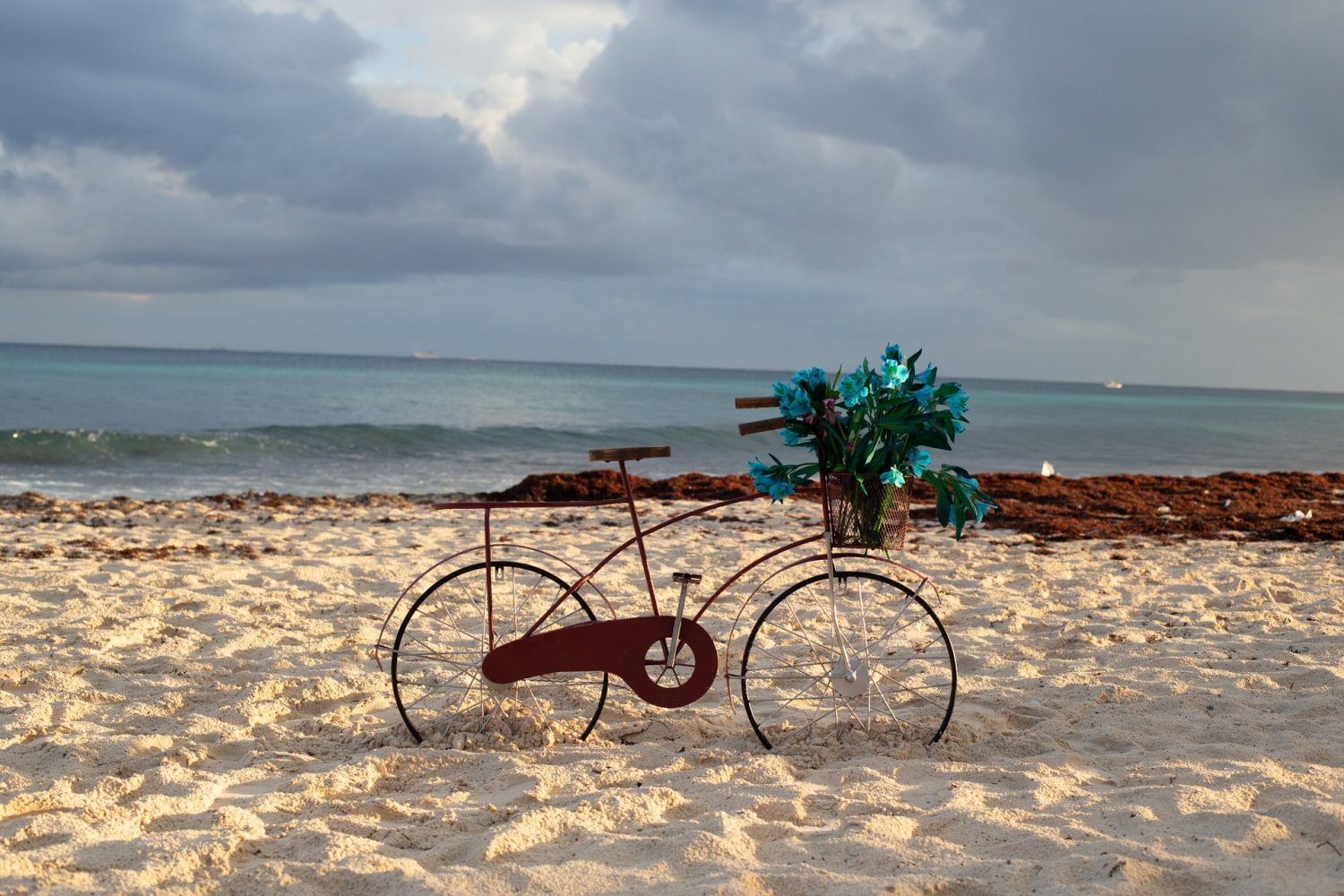 Typical rented bicycle for touring, Playa del Carmen, Quintana Roo.
Renting a car is the best method to explore some of the Riviera Maya's numerous attractions. Instead of a restricted tour bus, you may explore local marvels like cenotes or the Sian Ka'an Biosphere on your own leisure. Traffic lights function differently in this country than in other regions of North America. If there is no traffic on the opposite side, you can turn left at a green light. To continue, each side of a junction must wait for the green light. Only one way is shown by the green light at a time.
The ADO bus system provides an efficient and affordable way to get to and from the airport, as well as to other nearby sites such as Puerto Morelos or Tulum (to visit the Mayan ruins). The city has two stations: the major one on Avenida Juárez and 5ta Avenida, and the second on Avenida 20 and Calle 12.
Colectivos are one of the cheapest methods to go about the city, and they also travel along 307 comfortably across the Riviera Maya. You may drive in one of these minivans for less than 50 pesos (USD 3) to swim with turtles in Akumal, take Mexican culinary courses at the Little School of Mexican Cuisine in Puerto Morelos, or immerse yourself in one of the numerous cenotes situated along the road.
Weather
The greatest time to visit is during the summer when the days are bright and sunny and the evenings are chilly enough to wear a light sweater. The temperature increases to 26 degrees Celsius (79 degrees Fahrenheit) in March, April, and October. Temperatures average approximately 29 degrees Celsius (84 degrees Fahrenheit) from May through September. From November through February, the temperature is colder; the less humid months average approximately 24 degrees Celsius or 75 degrees Fahrenheit.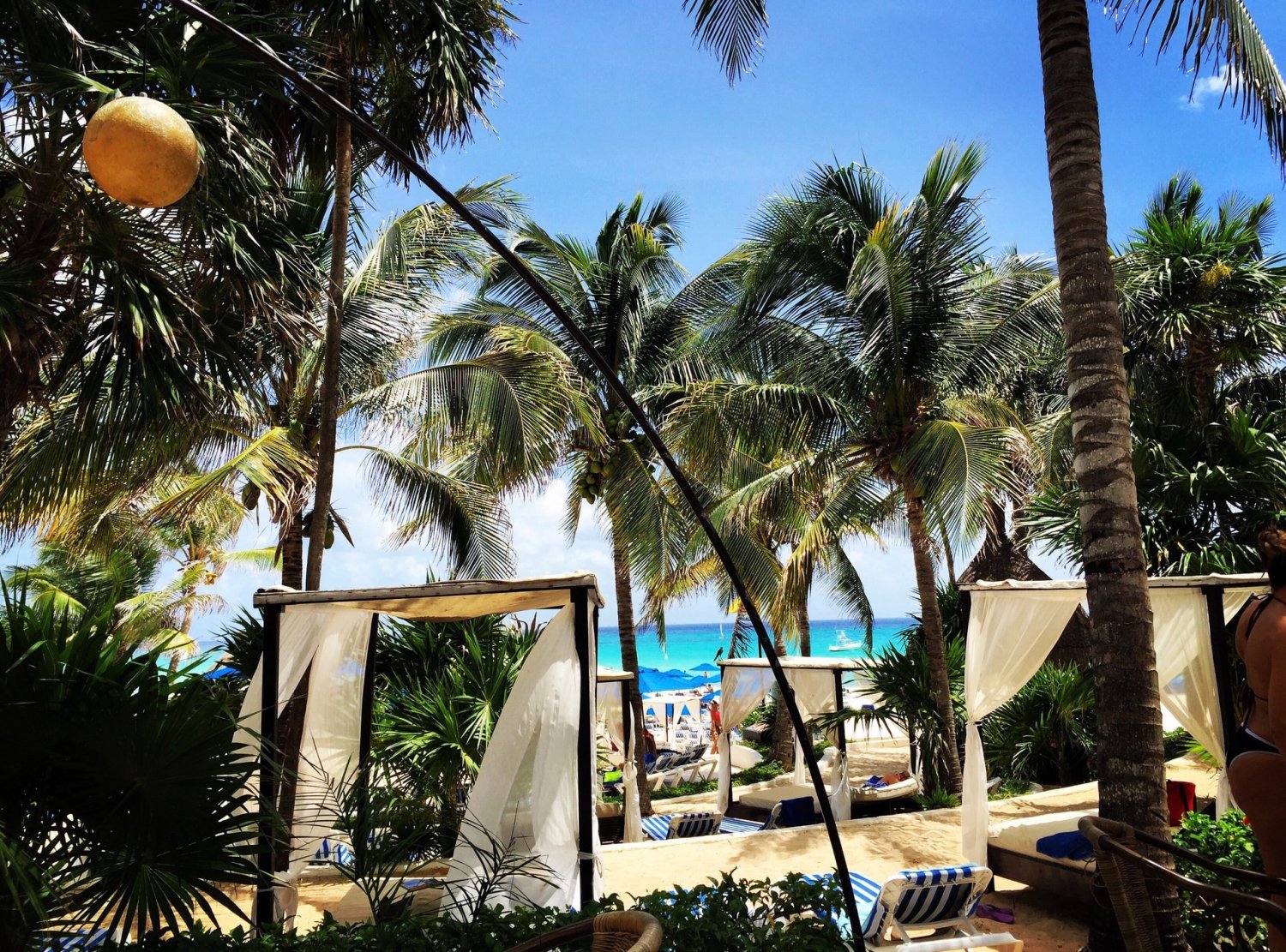 Playacar Beach, Playa del Carmen, Quintana Roo.
Tip: packing for this weather is straightforward, and the items you'll need don't take up much room in your luggage. Think outside the box! Dresses in light fabrics, cotton shirts, sandals, shorts, and swimming suits! You might wish to carry a light sweater for the evening.