Casa Malca: The exclusive museum hotel that dazzles in Tulum
Food & Drink Lifestyle Mini Break
Tulum is known for its beautiful pristine beaches and vibrant tourist scene. Among all the hotels and resorts in the area, one in particular stands out:
Casa Malca
.
We are on our way to this incredible hotel whose origins are shrouded in a series of stories that oscillate between myth and reality. This unique place combines the luxury of a world-class hotel with the beauty of contemporary art, creating a truly captivating experience for its visitors. Let me tell you the story as there are numerous myths and truths surrounding Casa Malca. Some say it was owned by Pablo Escobar, while others claim it originated for other reasons. What is the true story of Casa Malca? How did this attractive museum hotel in Tulum come to be?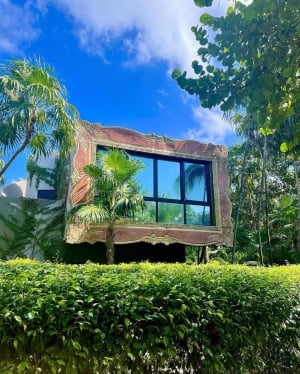 The history of
Casa Malca
is fascinating and full of mystery. Although there are many myths and rumors surrounding the hotel, the truth is that there is no concrete evidence that it was owned by Pablo Escobar or other controversial figures. There are no photographs or footprints to back up these claims.
The story of Casa Malca begins in 2014, when Mr. Lio Malca acquired the property and transformed a house with eight rooms into an exclusive accommodation. Initially conceived as a residence for friends and family, it gradually expanded into an exceptional lodging destination. The property was expanded and remodeled from eight rooms to 71, making it one of the largest and most luxurious hotels in the region.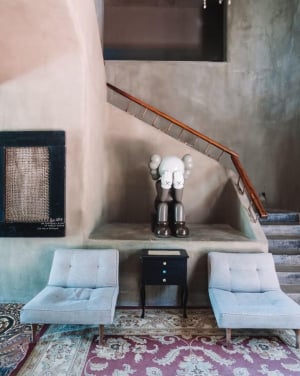 One of the main reasons why Casa Malca has positioned itself as the preferred destination for the Latin and American luxury sector in recent years is its focus on offering a relaxed luxury experience and a perfect blend of art, nature and comfort. Every corner of this hotel has been carefully decorated by the owner, who has been inspired by his travels and dreams to create a unique atmosphere. The hotel houses an impressive collection of contemporary art with monumental works that surprise visitors at every corner.
In addition to its focus on art, Casa Malca stands out for its attention to detail and the comfort of its guests. The rooms are designed with luxury and comfort in mind, offering a perfect retreat for those looking to relax and unwind. Casa Malca ensures that its visitors enjoy a comfortable stay without being affected by humidity, mosquitoes or other discomforts common in the Caribbean. It also prides itself on being a family destination, offering options for all members of the family and a wide variety of cuisine to satisfy all tastes.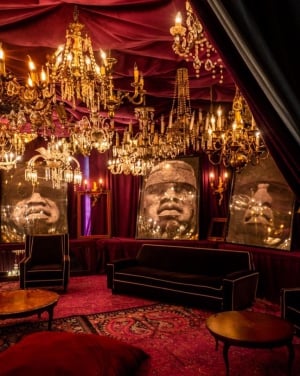 A perfect day at Casa Malca
A perfect day at
Casa Malca
begins with a delicious breakfast in the hotel's restaurant, where fresh and healthy dishes prepared with local ingredients are served. After enjoying a delicious meal, guests can explore the artwork that adorns the hotel, immersing themselves in a world of creativity and expression.
Afterwards, they can relax by the infinity-edge pool, where the friendly and attentive staff will take care of their every need, offering towels and refreshing tropical drinks. Those seeking a complete relaxation experience can visit the hotel's spa and pamper themselves with rejuvenating massages and beauty treatments.
In the afternoon, guests can venture out to explore Casa Malca's surroundings, whether enjoying the white sandy beaches of Tulum, exploring the ancient Mayan ruins or engaging in exciting water activities such as scuba diving and snorkeling on the coral reefs, there is always something for everyone's tastes and preferences. Back at the hotel, guests can indulge in an exquisite dinner at the restaurant, where local and international flavors are fused in gourmet dishes. After dinner, they can enjoy Casa Malca's lively nightlife at its sophisticated and vibrant bar, where exquisite handcrafted cocktails are served and live music and DJ sessions can be enjoyed.
Casa Malca has managed to combine art, comfort and hospitality in one place, creating a truly unique experience for its guests. Through its focus on art, attention to detail and exceptional service offerings, Casa Malca has left an unparalleled mark on the Tulum hotel scene.
If you are in search of a place that seamlessly combines luxury, creativity and beauty in one package, you need look no further than Casa Malca. This charming art hotel in Tulum will welcome you with open arms and take you on a fascinating journey through the world of art and exceptional hospitality. Prepare to be amazed in a fascinating place. Casa Malca is much more than a luxury hotel in Tulum. It is a destination that combines art, nature and comfort in a unique experience. With its impressive collection of contemporary art, its focus on guest service and comfort, and its location on one of the most beautiful beaches in the world, Casa Malca has become a favorite of the Latin American jet set in recent years. A visit to this exclusive museum hotel is an unforgettable experience that combines luxury and art in a paradisiacal setting.