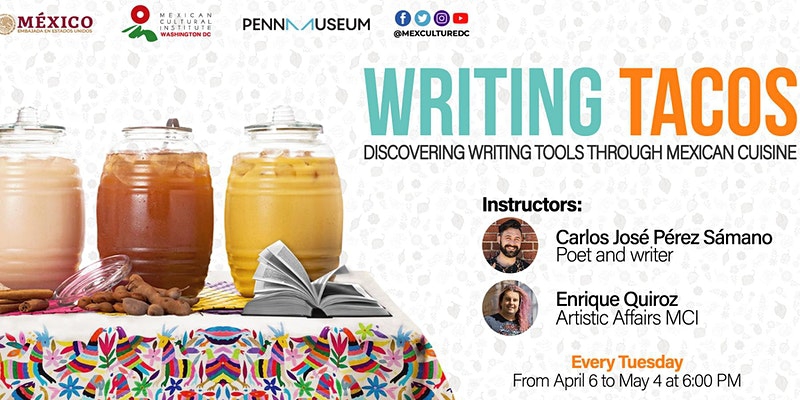 Writing Tacos
Creative Writing Workshop with Carlos José Pérez Sámano
Tue Apr 6th 2021 to Tue May 4th 2021 at 19:00
---
Mexico
Mexico
https://www.myguide-mexico.com/events/writing-tacos-creative-writing-workshop-with-carlos-jose-perez-samano
BOOK NOW
Event Details
Best events in Mexico - Online event

This five-session Creative Writing Workshop instructed by Mexican writer and poet Carlos José Pérez Sámano will explore the richness of Mexican Cuisine, inscribed in 2010 on the UNESCO's Representative List of Intangible Cultural Heritage of Humanity, through 5 of its signature dishes and beverages, explaining their origin and the way they shape the daily lives of Mexicans, both in Mexico and abroad.

In each session, participants will be writing short stories using creative tools and writing techniques related to the cooking processes introduced by the instructor. This workshop is multi-genre as it includes poetry and fiction. Mr. Perez Sámano will also present in each session an object related to each dish from the Mexico and Central American Gallery at the Penn Museum. He will be joined by Enrique Quiroz, Resident Artist from the Mexican Cultural Institute in Washington, DC who will share with the participants his insights and expertise on the traditional way to prepare each recipe.