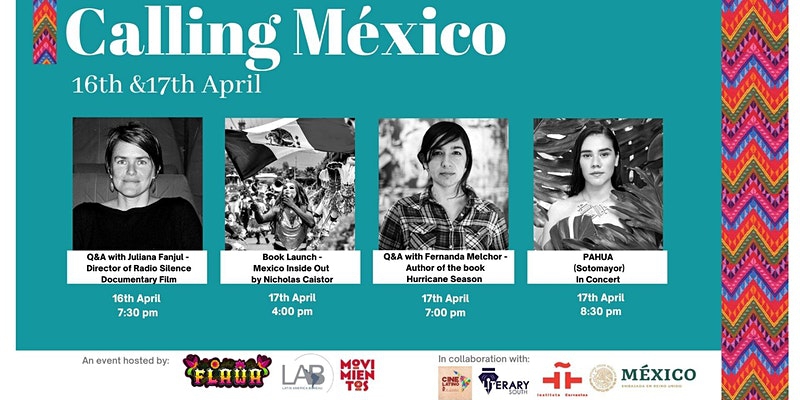 Calling México
By FLAWA
Fri Apr 16th 2021 to Sat Apr 17th 2021 at 15:00
---
Mexico
Mexico
https://www.myguide-mexico.com/events/calling-mexico
BOOK NOW
Event Details
Best events in Mexico - Online event

Friday 16th April:
Q&A with Juliana Fanjul, Director of documentary Radio Silence
Time: 7:30 pm
Conducted by Karoline Pelikan, Director of Cine Latino.
Radio Silence: Mexico, March 2015. Carmen Aristegui, the incorruptible journalist, is fired from the radio station where she has worked for years. But Carmen continues her fight: raising awareness and fighting against misinformation. The film tells the story of this essential quest. A fight against the monopolistic concentration of the media, against an authoritarian and corrupt political system.
The film will be available for 24 hours from 15th April until one hour before the Q&A with the Director.
The film will be available ONLY in the UK. If you are outside of the UK, you will not be able to access the film.


Saturday 17th April:

Book Launch: Mexico Inside Out

Time: 4:00 pm

Join us for the launch of a new book from the Latin America Bureau: 'Mexico Inside Out', by Nicholas Caistor.

Mexico Inside Out provides an introduction to the country for those who want to know more about Mexico than is found in an ordinary guidebook. It offers an up-to-date analysis of life in Mexico today, including a look at the country's history, geography, and society, and some of the political problems facing the current administration.

President López Obrador has promised to achieve Mexico's 'fourth transformation': in this event, Nick Caistor will be in conversation with Mexican journalist, media development specialist, and women's political rights activist, Elva Narcia, to discuss what this means and requires.

Q&A with writer Fernanda Melchor

Time: 7:00pm

Silvia Rothlisberger will be in conversation with writer Fernanda Melchor to talk about her International Booker Prize shortlisted book Hurricane Season and more.

Shortlisted for the 2020 Booker Prize, Hurricane Season is the English-language debut of Fernanda Melchor, one of the most exciting new voices of Mexican literature.

Hurricane Season has been described as a murder mystery, horror fiction, noir detective, political: it is all of them in its own original way. The narrators of this novel have a raging voice, each of them carrying a hurricane inside; as devastating as a hurricane so are their lives rife with poverty, superstition, gossip, and lack of opportunities.

Fernanda Melchor is the author of the collection This Is Not Miami and Hurricane Season (translated by Sophie Hughes). In 2018, she won the PEN Mexico Award for Literary and Journalistic Excellence, in 2019 the German Anna-Seghers-Preis and the International Literature Award for Hurricane Season, in 2020 she was shortlisted for the Booker International Prize for Hurricane Season.

PAHUA (Sotomayor) in Concert

Time: 8:30 pm

Pahua (pa-wa) is the solo project of a Mexican singer, songwriter, producer, and DJ Pau Sotomayor, also the lead singer of the band Sotomayor. This new project blends folkloric sounds with electronic, lo-fi beats and lyrics with messages of self-love and empowerment.